Mrs. Lillie Mae Kimble
(October 15, 1933 - April 5, 2014)
Services for Mrs. Lille Kimble will be celebrated Saturday, April 12, 2014; 11:00 a.m. at Victory Temple Holiness Church (1015 Main St, Colfax, La). Viewing will take place at the church from 9:00 a.m. to 11:00 a.m. Burial will be in the Forensic Cemetery in Colfax, La.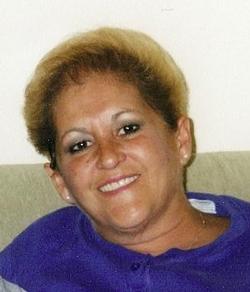 Leila Grandstaff
(July 1, 1948 - April 5, 2014)
Leila Ortiz Grandstaff passed on April 5, 2014, at the Heart Hospital of Lafayette Louisiana surrounded by family and friends. Leila was born in Puerto Rico in 1948 and moved to the US with her family as a child in 1953. Her father was a Master Sergeant in the Military. She attended high school in Washington State, was married to Micheal R. Slopak and had one son named Christopher. She later divorced and moved to Louisiana. She married Danny M. Grandstaff and had one son named Harley, she was widowed 2 years later. She worked as a cosmetologist and attended college at Northwestern. She later returned to school in New Orleans as a single parent of two and earned her masters from Tulane University graduating top in her class. No one loved New Orleans more than Leila. Leila was a dedicated Child Welfare Supervisor (MSW, GSW) for over twenty years, employed by the Children and Family Services of Louisiana. She was highly respected in the region and worked until her last moments to be the voice of the mistreated child. She was also a representative in court for children's rights. When disaster struck, she was there and volunteered her translation services in the New Orleans Super-dome during the passing of Hurricane Katrina. Leila worked diligently each year for donations to host a Christmas party for the children in foster care. This was one of her passions, to bring a smile and instill hope to these misplaced souls. She helped to customize and personalize the "Life Book" for children in foster care. The Life Book is a detailed scrapbook for each child who comes through the system including pictures and details of the child's life for reflection in future years by parents and children. Before the Life Book, many of these misplaced children grew up without any details of their younger years. Thousands of children will thank Leila and her staff for the records they kept later in life. She accomplished so much in her lifetime. Although dominate and confrontational, her unwavering integrity spoke volumes to all who came in contact with her. You may not have agreed with her position, but you knew exactly where she stood on the issue at hand, no side agendas. She will be missed as a mother, friend and grandmother. She left behind two sons, Christopher L. Slopak and wife Heather &Harley D. Grandstaff and wife Sherrie;3 sisters, Nilsa M. Ortiz, Vilma A. Mobley and husband Tom & Cookie Ortiz-Bacchas and husband Jim; one brother Rafael O. Clark; Nieces, Yvette Archuleta Tudury and husband Scott & Jolie R. Dunn; Nephews, Joey G. Tilton and wife Stephanie, Gabriel Clark, Isaac Clark & Dominic Clark; Great niece, Jazmon Cason; Great nephew, Joel McGinnis and Grandchildren, Harley Grandstaff Jr., Justin R. Grandstaff and Hannah L. Slopak. She was preceded in death by her parents, Julio and Pilar Ortiz, husband Danny Grandstaff. The visitation will be at Labby Memorial Funeral Home 601 S. 4th Street, Leesville, LA on April 11, 2014, from 5-9pm with graveside services to be held Saturday April 12, 2014, at 10am at Forest Lawn Memorial Cemetery, Leesville, LA.
Billy Joe Smith
(July 30, 1941 - April 9, 2014)
Billy Joe Smith of Natchitoches, after a valiant struggle with cancer, passed peacefully in his sleep on April 9th, 2014. Born in Natchitoches on July 30, 1941, he was 72 years old. He is survived by his daughters and spouses, Hanna and Greg Friedman, and Haley and Michael Vickers; along with three grandchildren, Erin Friedman, Johanna Vickers and Hannah Vickers; siblings, Sherry Smith Bass of Lake Charles and Cindy Smith Tarver of Eugene, OR
He was preceded in death by his ex-wife, Peggy LaCour and his parents, Willie (Bill) Smith and Pearl McGraw Smith Driever. Billy attended Warren Easton Elementary and Natchitoches High School, and was a member of the National Guard for 18 months. Soon after leaving the National Guard, the lure of the South Louisiana oil fields beckoned him and he had a notable career, rising in rank from roust-about to leadership positions with such companies as Brown & Root, Haliburton, OPI and De Mar Construction (Ciudad Del Carmen, Mexico) where he was still working after 20 years as General Manager. Billy's long tenure in the oil business afforded him the honor and privilege to work with such legendary pioneers as Joe Perot, Bill Hicks, Sam Smith, Jack Allday and Dennis Chow. In his career on the barges and boats, Billy was known as the "Southern Daddy"! One of his proudest achievements came in the early 70s, when Billy was employed with Brown & Root and was a part of the team that laid the very first oil pipeline in the North Sea in Great Yarmouth, England. Billy's career enabled him to travel all over the world, including the United Kingdom, The Netherlands, Denmark, India, Saudi Arabia, Iraq, Iran, Mexico, Singapore, Egypt, Nigeria and Ecuador. But no matter where he was, his heart was always with his family in Natchitoches, and he kept Cane River country as his home base. Billy's job kept him on the road much of the time, but while in Natchitoches he attended the Immaculate Conception Catholic Church and previously served in the Masonic Lodge and the Knights of Columbus. Loving father and grandfather, beloved brother and trusted friend to many, he will be sorely missed by all. Visitation and eulogy services will be at Blanchard St. Denis funeral home on Sunday, April 13, 2014 from 5 pm until 8 pm. Recitation of the Rosary will be held at 7:30 pm on the 13th. A Mass of Christian Burial will be 10 am Monday, April 14, 2014 at The Minor Basilica of the Immaculate Conception in Natchitoches, LA with Father Louis Sklar serving as celebrant. Burial at Memory Lawn will follow the service. Friends and relatives are invited to join his daughters at his home, 541 Monroe Drive in Natchitoches following the interment. Those honored to serve as pallbearers include: Edwin "Ned" Tarver, Benjamin Robert Landers, Ben "Skipper" Bass, Jr., Lee Lyons, Tim Methvin, Randy LaCaze, Jr., Joseph "Jody" LaCour and Judson Landon LaCour. Honorary pallbearers will be Bill Hicks, Jerry LaCour, Robert Fredieu, Alan Solomon, Jimmy Robinson, Chuck Denning, Jack McBride, Dwane Murphy, Ben Bass, Sr., Carl Taylor, Glenn Blackmon, and Ryan Camu. In lieu of flowers, memorials in Billy's name may be made to Hospice of Natchitoches, 340 2nd Street, Natchitoches, LA 71457 or to Christus Schumpert Cancer Treatment Center, 1 Saint Mary Place, Shreveport, LA 71101.
Winnie L Simmons
(May 17, 1940 - April 10, 2014)
Mrs. Winnie Simmons, 73 years of age, passed away Thursday, April 10, 2014 at her residence in Winnfield, LA with her family by her side. She was born May 17, 1940 in Negreet, LA to the late Allen James Williams and the late Mary (Bass) Williams. She was a loving mother and grandmother and will be dearly missed by her family and friends. She is survived by her children, Judy Davis of Winnfield, Brenda Bynog of Natchitoches, James Ray Sepulvado of Winnfield, Debra Vargas of Natchitoches and Kenneth Allen Simmons of Campti. She was blessed with 11 grandchildren and numerous great grandchildren.